A question that everyone asks is what exactly is in a service the service that they are paying for. There are three kinds of engine service on all V.A.G. vehicles whether it be a Skoda, Audi, or VW. These are a minor service, inspection service and a major service.  Each service should be done at one year or 15,000 km intervals (whichever comes first). The 'inspecion service' falls in at every two years or 30,000 km's, and the 'major service' comes around every four years or 60,000 km's. If your vehicle has the DSG transmission, this will need to be added to the budget for the 60,000 km service as it also requires a fluid and filter change at a major service interval.
Think of these services as the standard one year 'oil service', but with additional work due as per the VW factory schedule.
A 15k 'Minor Oil Service' includes:
-Castrol Edge Professional Longlife III 5w30 oil.
-Oil filter
-Windscreen washer additive
-Vehicle inspection
-Diagnostic scan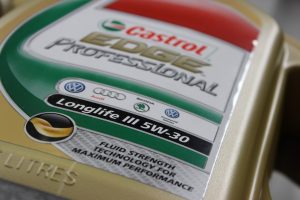 A 30k 'Inspection Service' includes:
As above plus
-Cabin filter
-Brake fluid flush
A 60k 'Major Service' includes:
As above plus
-Air filter
-Fuel filter
-Spark plugs (petrol vehicles only!)
-DSG transmission fluid & filter
-Haldex fluid (4motion/quattro vehicles only)